In the early '90s, Ellen Allien was among the first DJs to champion the new techno sound emerging from the clubs of Berlin's east side, a sound that was faster and more frenetic than its predecessor, acid house. Since then, Allien has released two albums of her own music, and founded her own record label, bpitch control. bpitch has become much more than a techno label, releasing cutting edge electronic music from ambient folk, to retro electro, to breakbeat-driven house. Berlin born and bred, Allien's sound reflects the ragged, rough quality of a city still under construction.




ELLA: You grew up in West Berlin, right?
ELLEN: Yeah. I lived with my mom and older sister in a big apartment complex. My mom worked in social services for the city government. I was on my own when she was at work so I was always very self-reliant.

ELLA: Was your mom musical at all?
ELLEN: No, but she gave me a real sense of freedom. She was very relaxed, she never told me what I could or couldn't do. I think maybe that's why I'm a strong-minded woman who's not scared of making decisions, or saying what I think.

ELLA: How were you affected by the political climate in Berlin?
ELLEN: Living there, I was always aware of the Wall around me. Whenever I traveled, say, to Hamburg to visit friends, the military would check my ID and possessions. They were very aggressive. When the Wall came down in '89, it was so powerful for everyone here, the social system and the music scene changed completely.

ELLA: How so?
ELLEN: After the Wall came down, the club scene in what used to be East Berlin started to grow, there were really cheap, huge industrial spaces to rent and no neighbors to disturb. Techno music was emerging at exactly the same time, which is perhaps why techno is so big in Germany, and in Berlin especially. It's always been linked with new social and artistic freedom. That's why Berliners are so emotional about it.

ELLA: You wear your hometown loyalty on your sleeve. Your first album was called Stadtkind, or City Child, and your most second one Berlinette.
ELLEN: Stadtkind is all about being a part of Berlin. When I'm coming home after playing a gig, and everybody around me is going to work, I really feel like I'm part of the city and its nightlife. The city gives me power.

ELLA: Although your songs have techno roots, they also tend to have very poppy melodies and lyrics.
ELLEN: My music isn't always easy, but it's always happy and light, like the sun. My music helps me escape. I want it to give people the same feeling that I get when I go out to a club. I want to have fun and leave my reality behind.

ELLA: Did you listen to a lot of pop as a kid?
ELLEN: Completely. A family friend owned jukeboxes in bars and restaurants across Berlin. Instead of throwing out the old records, he would give them to me. So I had lots of out-of-date '80s pop singles in my room.

ELLA: Did you listen to other stuff?
ELLEN: My sister gave me Cat Stevens, U2, and Simon and Garfunkel. I had all of David Bowie's songbooks. My mother passed along a record by the Berlin punk singer Nina Hagen. I was definitely the only person in our flat that listened to her. It was totally new to me to hear a great band singing in German.

ELLA: When did you know you wanted to be a musician?
ELLEN: Growing up, I didn't know what I wanted to do. I tried lots of different things, but never finished anything. I started fashion college, but left after a year because I hated it. Before I came to music I was a very unhappy person. I even studied dance at a performing arts school in Berlin called Die Etage.

ELLA: You're a woman of many talents.
ELLEN: No, I'm a woman who spent a long time trying to find herself. When the Wall came down, I was living with my boyfriend in a squat in Schoenberg on the west side. He was a producer who worked with African dance bands. He worked from the squat, so there were always bands hanging around. We had turned the cellar into music rooms with a drum set, guitars, microphones ? and there was a full studio upstairs. I started messing around with the instruments and equipment just for fun. I taught myself the saxophone and drums. I didn't have to worry about money because I wasn't paying rent. I was just painting, making music, trying to find myself.

ELLA: And how did you get into DJing?
ELLEN: I started working at a bar called Fischlabor. I guess it's kind of famous now. Dimitri Hegemann, the owner, was my techno grandpa, my mentor. He now runs the Tresor record label as well as the Tresor club in Mitte. But in 1988 he started Berlin's very first techno club, UFO, where they played trance music. It was like music from another planet, or from a '70s science-fiction film. Dimitri taught me all about techno music. I played my first-ever DJ set at Fischlabor.

ELLA: Did you fall in love with techno right away?
ELLEN: I have to admit, the first time I went to a techno club, I hated it. They were playing acid house, and the music was too fast for me. I couldn't dance to it.

ELLA: What had you been listening to before?
ELLEN: There was a really good hip-hop scene in Berlin. I was going to clubs like the WMF, where the hip-hop parties started. But men would always put their hands on my ass and say all this sleazy shit. Then a club called The Planet opened in 1990, which was totally different from anything I had experienced before. It drew a gay crowd, the lights were great, and the music was a bit slower than the acid house I'd heard. The first time I went, I closed my eyes and danced for five hours straight ? and nobody put their hand on my ass.

ELLA: You were won over.
ELLEN: Yeah. The crowd had a more modern attitude, it wasn't centered around sex. Dancing to music without lyrics was a totally different feeling, it was as if the keyboard were talking to you. It allows you to dream. It's like looking into the sky and feeling free.

ELLA: Were there any tracks you particularly loved?
ELLEN: The 'Cocaine Mix' by Phuture, on their Acid Trax EP. So many of the great acid-house records were released by the Trax label in Chicago. We were listening to a lot of tunes from Chicago, Detroit, and England ? like early Aphex Twin, and Spooky.

ELLA: You were a resident DJ at E-Werk, the thousand-capacity temple to techno, for years, until it closed in 1997. All the guys who went on to become the most famous DJs in the city started there ? DJ Woody, DJ Disko, Dr. Motte. DJ Hell used to play there before he started Gigolo Records.
ELLEN: The clubs were so important. I could debut material, listen to music, or just have fun and dance. The club scene gave so many people I know the courage to give up their regular jobs and start to create. It's not easy for young people to break away from convention and do what they really want to do. As a young woman, it was difficult to start my own company. It took me years to learn not to fear the future.

ELLA: You founded Bpitch Control in 1999. Why didn't you just sign with an existing label?
ELLEN: At the time, there were no Berlin-based labels that I really liked. The club scene was great, but the labels didn't start to flourish until later. When I founded Bpitch, I wanted to create my own island, to find my voice as a DJ and musician. It's really important to me to do things my way. But since starting my company, I've discovered that I have to do so many things I don't like, all of the business details necessary to run a label. I love it, but sometimes I hate it.

ELLA: You do remixes for so many different artists, from Miss Kittin to Kid 606. Do you prefer collaborating or working alone?
ELLEN: I love meeting new people and sharing musical ideas. Bpitch is all about exchange. When I do remixes, I feel like I'm working intimately with the artists because they trust me enough to give me the bare bones of their songs.

ELLA: Where do you start?
ELLEN: Usually the artist will give me each track of a song on a separate CD. I'll listen to the song and take out the elements I don't like. Then I'll only use the tracks I really love. Perhaps I'll do a breakbeat remix because it goes with a melody. I might use a breakbeat that I've made but haven't found a place for in my own music yet.

ELLA: Is there a remix you've done that you particularly love?
ELLEN: I love my remix of Gold Chains' , Let's Get it On. I really respect him he's such a great guy. He's making hip-hop in a totally new, electronic way. And his lyrics are amazing.

ELLA: How did you meet him?
ELLEN: When he visited Berlin last year, we struck up a friendship. Then the last time I was in San Francisco, he showed me around. I love the whole San Francisco indie scene. Kid 606 is working so hard, releasing all this crazy stuff on his label, Tigerbeat6. I have total respect for him, because it's difficult to make an impact in a country as big as the U.S.

ELLA: Do you listen to every demo that comes in?
ELLEN: Every one. I go through them at night with Sascha, who is one of the artists signed to Bpitch. He'll put a CD on, and if we like it, we'll write to the artist and ask for more tracks. If we don't like it, we throw it away. It's a pretty quick process ? after a few bass drumbeats, I know if it's any good.

ELLA: What are you looking for?
ELLEN: The music has to be personal, not just the current trend. The tune has to catch me and that normally only happens when I hear something I've never heard before. In the past, I would sign artists to the label without thinking too much. Now I'm trying to be careful to sign people who will make really good music over the long run, not just one good record. Because if it doesn't sell, I take the loss.
© index magazine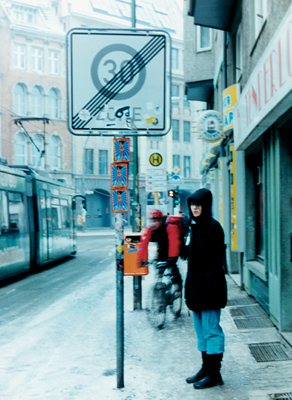 Ellen Allien by Nina Andersson, 2004